World Book Day Open Afternoon - 7th March 2019
What are we learning this week?
1.4.19
English
The children will finish writing non-fiction texts about sport this week. They will write about a sport or activity that they enjoy. They will use subheadings to break the information down into small sections including a "fun fact" section. Finally, they will create a class contents page to put all the pages together into an informative non-fiction book about sports!
Topic
They will be finishing the topic Rio de Vida this week. The children have really enjoyed learning all about Brazil. They will learn about physical and human features, use iPad software to make simple animations and create carnival style music. We look forward to launching our new topic after Easter; Paws, Claws and Whiskers!
25.3.19
Maths
This week we are continuing to add equal groups. We will look at images of equal groups and the children will need to write and answer a number sentence linked to the image. Towards the end of the week we will then move on to doubling. Will we investigate using Numicon and what happens to a number when you double it.
English
The children are really enjoying learning about non-fiction books and this week they will be writing their own. We will look at more examples of non-fiction texts about sport and the children will make up a sport of their own. They will then write a simple information page about this sport explaining how it is played and including fun facts.
Topic
This week we will evaluate the masks we made last week. The children will think about what they have done well, what was difficult and what they could do better next time.
18.3.19
Maths
This week we are looking at multiplying and making equal groups. The children will look at images of groups of objects and describe what they can see E.g. There are 3 groups of 2. We will then move on and begin to add equal groups together E.g. 5+5+5= 15.
English
In English this week we are learning about non-fiction texts. We will consider the features of these books such as the contents page, glossary, index and chapters. We will focus on information books about football, Brazil's national sport, to link with our topic Rio de Vida.
Topic
In Topic we will design and make carnival masks using sequins, gemstones and feathers. The children will spend time exploring examples of masks used in Rio Carnival and then plan their own design adding clear detail. Later in the week they will begin to make the masks by closely following their designs.
11.3.19
Maths
This week we are measuring with a ruler. We will be introducing centimetres and how to measure accurately. The children will then measure different sized lines and then begin to measure length and heights of objects in cm.
English
This week we will write the final drafts of our stories. We will focus on using exciting adjectives and remembering our essential writing toolkit which includes capital letters, full stops and finger spaces. Thank you to all the parents who visited our classrooms on World Book Day and joined in with our story writing! The children were very excited to share their learning with you.
Topic
In our Topic lessons we will be designing and making musical instruments and brightly coloured flags that could be used at Rio Carnival!
4.3.19
Maths
The children will be looking at understanding the terminology shorter, longer, taller, smaller and will be using non standard units (cubes, paper clips, straws etc) to measure a variety of objects around the classroom.
English
We will continue our work based around the book Two Can Toucan by David McKee this week. The children will get to know the story better by pretending to be the Toucan and will plan their own version of the story. We look forward to welcoming parents into the classrooms on Thursday when the children will begin to write their stories with you!
Topic
This week we will learn more about Brazil, including listening carefully to different samba music to identify what instruments we can hear.
25.2.19
Maths
This week, we have been ordering numbers and counting in 2s and 5s. Children will also be asked to identify the pattern when counting in 2s and 5s and use this to help them answer questions.
English
This week we are basing our work on the story Two Can Toucan by David McKee. First, we will learn the story orally using actions and expression. Then we will develop our understanding of the story by discussing the language used and the vocabulary choices made by the author.
Topic
We are beginning our new topic this week - Rio de Vida! We have changed our shared area display to look like a rainforest and over the week the children will paint tropical coloured parrots to add to the display. We also have the Samba Drumming Workshop on Thursday which will be a fantastic way to begin this carnival themed topic.
What are we learning this week?
4.2.19
Maths
This week in maths we will be looking at numbers up to 50. We will start the week of by reading and writing numbers to 50 and then move on to investigating (using practical resources) by partitioning the numbers in to tens and ones.
English
Over the next 2 weeks we will be learning about the Oliver Jeffers book "How to Catch a Star". The children will learn a version of the text off by heart and then make changes to this to create their own version on the story. You can ask them to tell you the story, complete with actions!
Topic
As we come to the end of our memory box topic we will be reflecting on our own memories and beginning to make the contents for our memory boxes. Please remember to send in your shoe box so that we can decorate our boxes next week.
28.1.19
Maths
This week we will be looking at related number facts e.g. 8 + 2 = 10, 2 + 8 = 10, 10 - 8 = 2 and 10 - 2 = 8. We call these "fact families". We have been exploring these through different representations such as the tens frame, part whole model and bar model. The children will have to look at the different representations and write 4 number sentences (2 addition and 2 subtraction).
English
This week we are learning how to write information texts. We will write labels for the old toys that we have been looking at in Topic and also create an information page to tell people all about how these toys were used in the past.
Topic
We will continue learning about the past using the artefacts from Milton Keynes museum. These toys include a wooden Jacob's ladder, a flip book and a ball and cup toy. We will also begin to think about chronology and will be ordering pictures and artefacts from the oldest to the most modern
21.1.19
English
We will continue to use Little Red Riding Hood this week as we write diary entries, pretending to be Little Red Riding Hood. We will use exclamation marks to show when something is exciting or someone has raised their voice.
Maths
This week we will be learning about subtraction. We will use practical resources including a tens frame and a number line to solve calculations which involve crossing 10. E.g. 13 - 4.
Topic
This week's focus is remembering the past. We will look at pictures and artefacts (from Milton Keynes Museum) of toys and objects from the past and consider what they might be. We will also learn and sing songs and rhymes, including I Can Sing a Rainbow, The Alphabet Song and Dem Bones that help us to remember different things.
14.1.19
English
This week we will read the story of Little Red Riding Hood. Our writing focus will be exclamation marks and we will look at examples of sentences that use an exclamation mark before writing our own.
Maths
This week we will learn to add by making 10 first. E.g. when adding 9 + 4 it is easier to make 10 and then add the remaining 3. We will use counters to represent both numbers. Then we will move one counter from 4 to turn our 9 into a 10. It is important to know our number bonds to 10 to help us with this strategy.
Topic
In Topic this week we will be practising our artistic skills! We will share memories of a special family celebration and then paint a picture of the event. Later in the week we will make cards to celebrate special events including birthdays, weddings or religious celebrations.
7.1.19
English
This week we learned how to write question. We looked at examples of questions and noticed that a question needs a question word at the beginning and a question mark at the end. We created questions about babies to ask our special visitors. We practised saying these out loud and also wrote them in our books.
Maths
In Maths this week we have been learning our number bonds to 20. This means pairs of numbers that make 20 e.g. 18 + 2, 7 + 13. It is important for the children to know their number bonds to 10 and to 20. Please look out for the sheet we are sending home to practise with your child.
We also learned how to add by counting on. This means starting with the biggest number first and then counting on the smaller number. E.g. 14 + 4: put 14 in your head and then say the next number, putting a finger up every time you say a new number... 15, 16, 17, 18. Then when you have 4 fingers up you know you have the correct answer.
Topic
We have launched our new topic Memory Box this week with some exciting visitors. Thank you to the parents who came to see us with their babies and toddlers and answer our questions.
Over the course of this week the children of Year 1 have made a calendar, a gift and a card to take home for their parents. They have thoroughly enjoyed getting their fingers sticky and using a variety of different materials. Here are some pictures to show you what they got up to.
Year 1 was rewarded with a treat afternoon for getting all the people in the jar. The children voted and chose to wear pyjamas and watch a movie. Here are some pictures to show you what a lovely afternoon it was.
What are we learning about this week?
17.12.18
The final week of term will be a very busy one in Year 1. We will be writing Christmas poems, making Christmas gifts and cards, eating our Christmas lunch in our Christmas jumpers AND watching a pantomime performed by a visiting theatre group! What an exciting week it will be!
When we return to school in January we will begin our new topic Memory Box which has a history focus and we will be comparing the things that the children can do now to what they could do as a baby. We will also look at the clothes, toys and other things that babies use and compare them with what Year 1 use now. If you have any things from when your child was a baby you could share them and discuss how they have changed.
Please do continue to read regularly over the Christmas holidays as this will support your child's reading progress. The children should now be encouraged to recognise more words on sight and reread sentences to develop their fluency. Practising the common exception words that you received at parents evening will help to develop this fluency.
After the Christmas break we will be returning to addition and subtraction in maths. You can support your child with this by developing their mental arithmetic skills at home. Can they answer questions like 8 + 2 or 4 + 3 with increasing speed and confidence? Can they start on a number (e.g. 9) and count on to add (e.g. to solve 9 + 6)?
Thank you for your support this term. We wish you a very Merry Christmas and a restful break.
10.12.18
This week the children will perform their Christmas production, It's a Baby! Our dress rehearsal takes place on Thursday afternoon for the rest of the school and we look forward to seeing you all at the performance on Friday morning.
Thank you to those who have sent in a clean glass jar. If you have not yet sent one in please do so by the end of this week as we will be making a special Christmas gift with these next week.
On Tuesday we will make Christingles for our special Christmas assembly with Reverend Morris on Wednesday morning. The children will then bring these home. You can ask your child if they can tell you what all the different elements represent.
3.12.18
English
This week we will be focusing on handwriting. We are so proud of how much the children have improved their writing by remembering, "tall letters tall and small letters small." This means that all the small letters should be the same size and tall letters such as t, h, l should touch the line above.
We will write an adventure story based in modern day London and use our knowledge of famous landmarks to add interesting detail.
Topic
We are continuing our work all about London. We would like to thank you all for the fantastic Tudor houses your have created with your children at home. They look fantastic in our Pudding Lane display outside the classrooms and the children are very proud of their work!
26.11.18
English
We have been learning what a sentence is and what it is not. The children have been very good at spotting examples of incomplete sentences and have been practising saying a whole sentence, writing it and then finishing with a full stop.
Our sentences have been about The Great Fire of London and we have really enjoyed learning facts about this historical event to include in our writing.
Topic
This week will be computer programmers and we will learning how to program using accurate commands. We will use Beebots (simple robots which can be programmed to move forward, backward, left and right) and the Beebot app to practise our skills. You can download the Beebot app at home if you have a tablet.
19.11.18
English
This week we are finishing our writing based on the story of The Magic Bed by John Burningham. We have focused on using 'and' in our sentences but making sure to only use it once in a sentence. The children learned that when you write a sentence, '1 and is better than 2!"
The children have produced some super stories using the ideas from The Magic Bed to hell them.
Topic
We will be learning traditional songs and rhymes that children who have lived in London in the past would have sung. These will include:
London's Burning
Oranges and Lemons
Ring o' roses
Children in Need - 16th November
The children looked lovely in their spotty clothes and Pudsey ears. Also both Year 1 classes successfully covered up their A3 size Pudsey in change. Thank you for all your donations.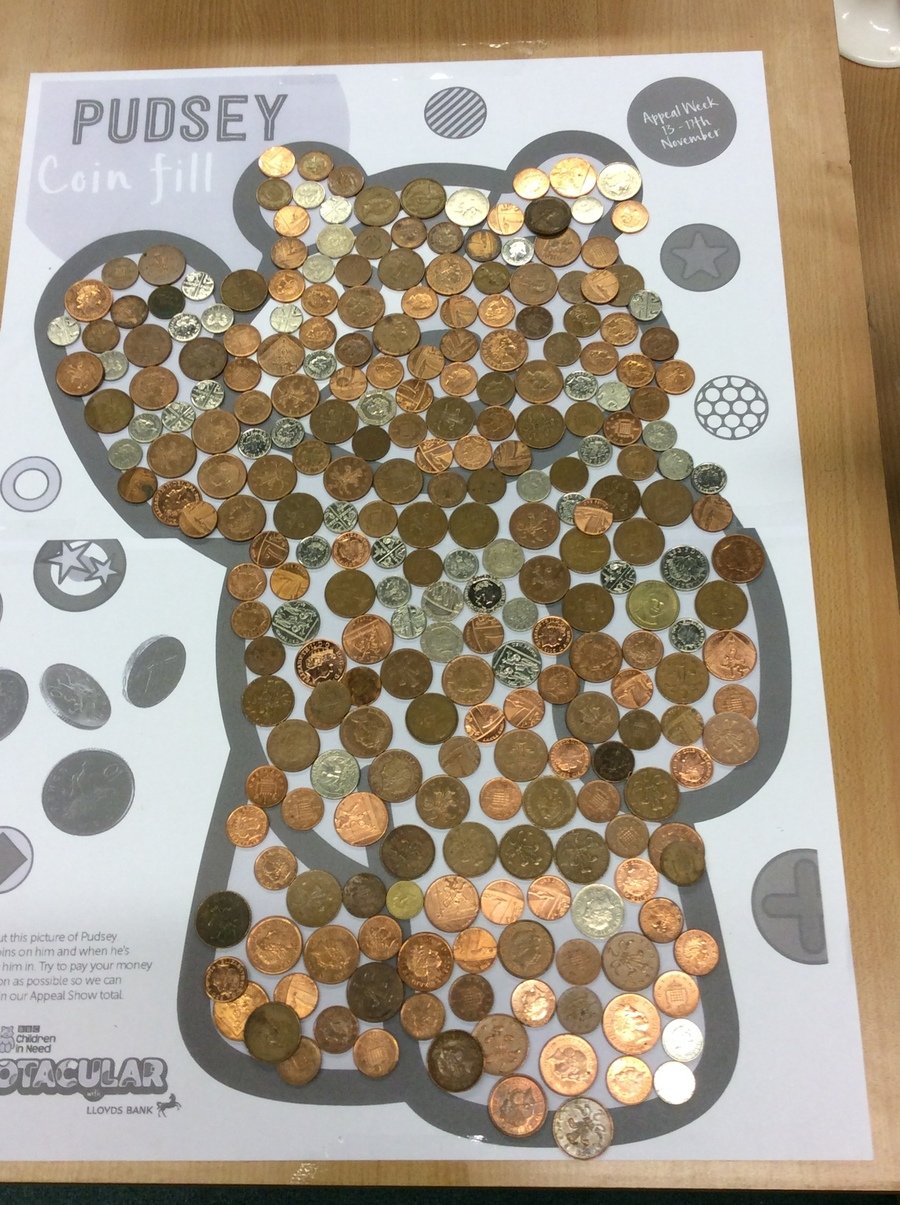 Maths - 13th November
Year 1 did Maths a little differently today. We decided to merge our love of Maths and PE into one lesson and it was a huge hit with the children. The children had to work in groups and race against other to solve a range of addition problems.
The Royal Visit - 6th November
Today Year 1 were invited to a very important tea party. We had a very special visitor, Her Majesty, The Queen and the children greeted her with bows and curtsies. We all enjoyed a range of different foods and listened to elegant music.
What are we learning about this week?
12.11.18
Maths
The children will be adding not only with numbers but pictures and concrete resources. We will also have a PE lesson where the children will work in teams to run to the hoops, choose questions, solve them and record their answers.
5.11.18
Maths
The children will look at 2D and 3D shapes, creating patterns and go on a shape hunt around school.
English
The children will be visited by the Queen! They will write about the visit and start to the learn the actions to a new story called The Magic Bed. They will also looked at how to 'up level' their writing by adding adjectives and remembering to use capital letters and full stops.
Topic
The children will use iPads to research famous places in London and look at the map of the UK. They will name the 4 countries that make the UK and name their capitals.
What are we learning about this week?
22.10.18
English
They will be finishing their own version of 'Polly and the Alien.'
Maths
They will be exploring shape.
Topic
They will be discussing about what would we like a superhero to change in our school. E.g. less litter on the floor, etc. They will be spending an afternoon designing our Christmas cards and then Thursday is our stupendous 'Superhero Day.'
8.10.18
Maths
We have started looking at missing number problems, we will then look at subtraction and then fact families.
English
We are going to learn the story 'Polly and the Alien' using actions and make changes to plan our own stories.
Topic
We are making a comic strip and then creating our own stop motion video of our superheroes saving people.
1.10.18
Maths
In Maths we are learning about number bonds to ten which are pairs of numbers that make 10. The children will use numicon and cubes to investigate different ways they can make ten.
English
The children will be writing about their own special super powers. For example they might be kind to everyone they meet or helpful when someone needs help in the classroom.
Topic
In Topic we have been visited by the villain Professor Slime this week! He left some rules around the school to try and trick the children into following them including terrible rules like, "don't share" or "throw your coats on the floor". Luckily Dormouse and Squirrel class were on hand to find these rules and rewrite them for the rest of the children in the school! We have also made our own slime this week and will end the week designing our own superhero masks.
24.9.18
English
We are giving real life heroes super powers and writing about how their super powers help save people's lives. Example: doctor - he has healing hands, x-ray vision and jet pack boots.
Topic
We will be looking at and naming parts of the body. Using our superhero senses to guess what is inside some boxes and, finally, making our own healthy sandwich to keep our superhero strength.
17.9.18
Maths
They will be comparing numbers, identifying which is greater and which is smaller. It is important that children are writing their numbers round the right way so please help them practise!
English
The children will be creating their own superhero comic strip! We will be practising saying sentences out loud before writing them. This helps the children to remember all the words they want to write before they begin.
Topic
They will be looking at real life heroes such as doctors, firemen etc and will be looking at the life of Florence Nightingale and why she is a hero.
10.9.18
Maths
In Maths this week we are using different resources to show one more and one less. We will also work on explaining our answers by answering questions in full sentences.
English
This week we are going to write a superhero comic strip! We will use the adjectives we generated last week to help us write super sentences.
Topic
We will continue our superhero theme in our Topic lessons this week and we will look at how to stay safe online, how to draw a detailed superhero picture and we will work as part of a group to explain how we can identify whether a character is a hero or a villain.
4.9.18
Welcome back to school and the start of an exciting journey in Year 1!
Maths
Counting objects, recognising numbers and writing them up to 10 will be the focus of the week.
English
We are practising our sentence writing in English by writing about our summer holidays.
Topic
In Topic we have launched our new topic Crossbones and Capes and have been using the iPads to make superhero pictures.
Notices
PE: At least one of our PE lessons will be outside every week. Therefore could we please request that you make sure your child has suitable PE clothing for both indoor and outdoor use in their bags. It is essential that PE kits stay at school throughout the week and are not taken home after a PE day.
Library Books: Once this is up and running, school library books should be brought back to school each week, even if your child wishes to keep them. This is so that they can be re-scanned out. Having the opportunity to go down to the library is an exciting opportunity for children and helps to promote the love of reading.
Snacks: The school provides snack every day so the children will not need to supply snacks from home.
Water bottles: Please make sure that your child has a named water bottle in school each day. Children should have water in their bottles rather than juice or squash.
Summer Term 2
2017-18
09.07.18
Numeracy
This week the children will be learning about place value. They will be using numicon and dienes to look at how many tens and ones make up a number. The children will then move onto looking at greater than and less than and learning about the symbols.
Literacy
This week will be a Read Write Inc. week. The children will be in their new differentiated groups to practise their blending, fluency and comprehension skills.
Topic
This week is our innovate week in topic where we will be using all the skills we have learned this half term to help us become pet detectives.
18.06.18
Numeracy
This week the children will be learning how to solve subtraction word problems, we will be looking at the vocabulary used and practising counting on in our heads.
Literacy
This week will be a Literacy week. The children will be learning a new story 'How the Rabbit Got Her Ears', with a specific focus on the adjectives used to describe the animals. The children will then plan and write their own version of the story about an animal of their choice.
Topic
This week we will be starting our new topic 'Paws, Claws and Whiskers'. The children will be going on a butterfly hunt looking for hidden butterflies, they will then compare which ones camouflage better than others and why. The children will then make their own camouflaging butterfly.